Two HBCU football stars, Robert Brazile and Michael Strahan, were inducted into the Texas Sports Hall of Fame. The induction took place on April 15, 2023.
Robert Brazile
Robert Brazile played college football at Jackson State. He was drafted in the first round of the 1975 NFL Draft, just two slots behind his college teammate Walter Payton. Brazile went on to enjoy a Hall of Fame career with the Houston Oilers during the team's beloved Luv Ya Blue era. Two of his Luv Ya Blue teammates were on hand to support him. Former Heisman Trophy winner Earl Campbell and Vernon Perry attended.
Jackson State was well represented on the Luv Ya Blue era Oilers, a team that made the AFC Championship Game in two straight seasons, 1978 and 1979. Besides Brazile, former Jackson State stars Leon Gray, Rich Caster, and Vernon Perry played prominent roles for coach Bum Phillips' squads.
Brazile noted that he was proud to have played his entire NFL career for the Houston Oilers. The Houston Oilers later moved and are now known as the Tennessee Titans.
During his time with the Oilers, Brazile played alongside Elvin Bethea on the Oilers defense. Like Brazile, Bethea is also a member of both the Texas Sports Hall of Fame and the Pro Football Hall of Fame. Elvin also played HBCU football, at North Carolina A&T.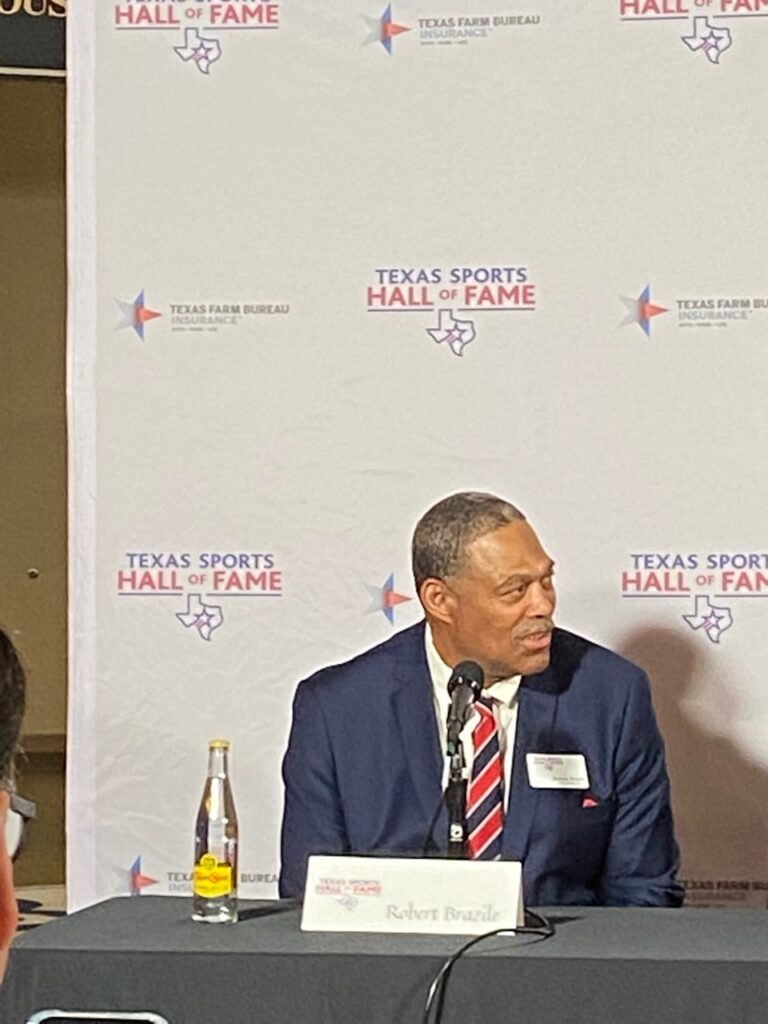 Michael Strahan
Michael Strahan played college football at Texas Southern. He followed in the HBCU footsteps of his uncle Art Strahan who also played at Texas Southern before his time in the pros. Michael Strahan was drafted by the New York Giants in the second round of the 1993 NFL Draft after earning SWAC Player of the Year honors.
Both spoke at the Texas Sports Hall of Fame Induction Banquet. Audio was captured for the Texas Sports Hall of Fame Podcast.
Strahan, who grew up in Houston, noted that he was a fan of Robert Brazile growing up.
Michael Strahan set an NFL record with 22.5 sacks in 2001. When he retired, he was fifth on the all-time sack leaderboard.
Strahan played pro football for the New York Giants. The Giants drafted Strahan in the second round of the 1993 NFL Draft out of Texas Southern. Strahan was twice named SWAC player of the year during his illustrious HBCU football career.