"A Match Game of Ball"
It was the 1892 Christmas season, and two tiny North Carolina church schools were unknowingly about to present black Americans with a historic athlet­ic gift for the ages. Its presentation was heralded in an innocuous item which ran in the African Methodist Episcopal Zion Church newspaper, Star of Zion:
"A game of foot ball (sic) will be played between Biddle University and Livingstone College Tuesday, Dec. 27, at the Livingstone College grounds. The Livingstone boys are sanguine of success, while the boys from Biddle are quite confident that they won't be beaten. The game promises to be interest­ing. There will be an open field, so a large crowd is expected. Both teams will do their best to carry off honors for their alma mater. Captain Walker has an excellent team and is well pleased with the work it is doing. Taylor, who plays center, is a fellow who weighs a little more than 200 pounds and is like a strong wall. Trent, Rives, O'Neil are good in their places. Everything is now in order for the game."
When was the first HBCU football game?
The first HBCU football game was played in 1892. Biddle University played at Livingstone College on December 27, 1892.
Early HBCUs and Football
That formally set the stage for history to be made despite the community's otherwise casual approach toward what would become the first football game between historically black college teams. Of course, there was little to get excited about. Football had not yet gripped black college audiences and besides, there were no strutting bands, energetic cheerleader routines, souvenir vendors, or even a blimp floating overhead. The game of football was itself still in relative infancy as its black college version was about to be christened. There was no reason for the first black college football fans to take the game seriously, and it's doubtful that most knew very much about the game, if they knew of it at all. The game would be played during a time that was merely a welcomed semester break from studies and served more as entertainment for the Christmas holidays when most of Livingstone's students had remained on campus, unable to afford a trip home.
"Most of the people then had a struggle just getting an education," said Louise M. Rountree, former librarian and historian for Livingstone, and author of Blue Bear Trax, which documents the Livingstone football history. "They were hard-working people who didn't have that kind of (leisure) time."
Who won the first HBCU football game?
Biddle University defeated Livingstone College 4-0 in the first ever HBCU football game. At the time, a touchdown was worth only four points.
Nineteenth Century HBCU Students
Most of the students were farmers and the sons and daughters of farmers and all could see, with a quick mental glance over their shoulders, the still all-too-fresh visions of slavery.
In 1892, erasing the color line was still a formidable challenge for all black Americans, though in the Deep South it was a life-threatening venture. Basic survival and a will to gain self-sufficiency were by far of much deeper concern to Southern African Americans than sports. Football came to black colleges as a diversion from the rigors of on-going racial oppression, though even by that notion organized football had been a distant thought for black college officials. First, and utterly foremost, there was the business of education. The chains of slavery had been removed and now the mind was also unlocked and free – to learn. Varsity football? Its time would come, but before 1890, all sports at black colleges were intramural. Facilities and funds were slight and school officials were hesi­tant to invest more into athletic coffers without giving the appearance, to philanthropists and other benefactors, of squandering school resources. Rather, the bulk of the schools' money went toward books, teach­ers, and laboratories.
Biddle University Football
Football was chartered at Biddle more than two decades after its founding in 1867.
Captained by L. B. Ellerson, the men at Biddle had banded their football team in 1890, calling themselves "The Bull Pen," with students serving as coaches. The members of the Bull Pen had been studying and practicing the new sport, so to speak. Primarily, they read up on the rugby rules of England and Australia. However, after two years of getting acquainted with football and playing intramural games, the Biddle team felt ready for an outside challenge and their most likely opponent was just thirty miles to the north in Salisbury at Livingstone, whose students had only taken up the sport in the summer of 1892.
Biddle University is now known as Johnson C. Smith University.
Livingstone College Football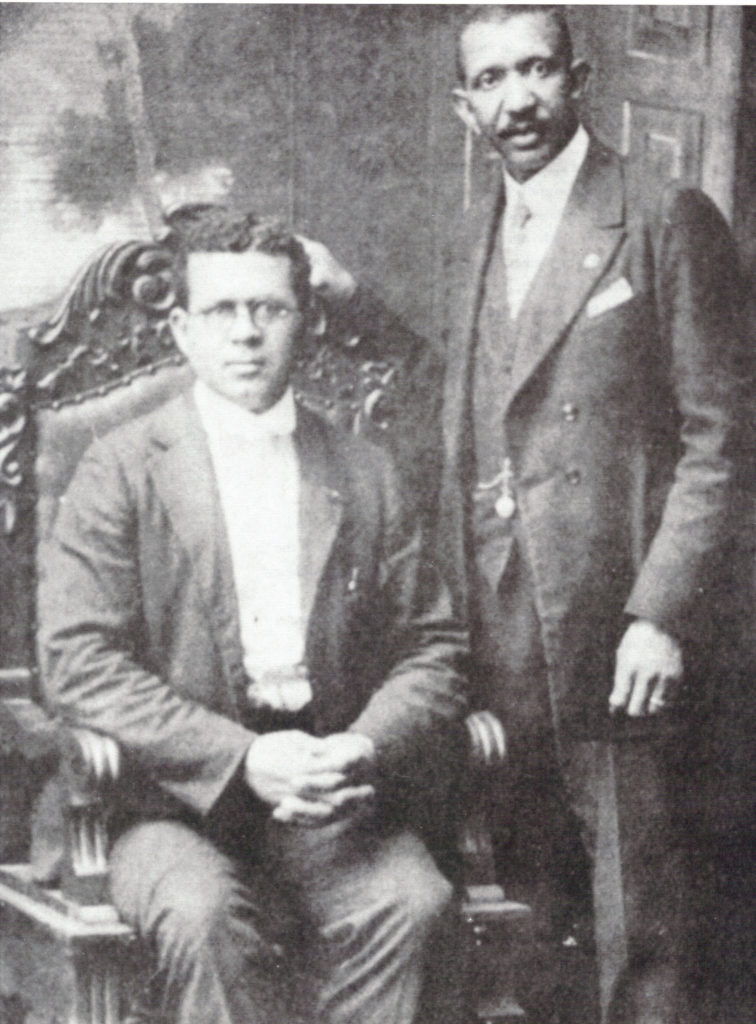 ABOVE: W.J. Trent and Captain Walker
Though two years behind Biddle in practice, Livingstone was apparently eager for outside competition as well. It is not clear which player or coach initiated the idea for the historic game, but the December 3, 1892 Indianapolis Freeman newspaper reported this from their Biddle correspondent: "Our football eleven has received a challenge from one of Livingstone College to play a match game of ball. . . the challenge will most likely be accepted, and the boys are now kicking the leather bag over the field."
Livingstone was a relatively new school founded in 1879, and its football program's start is recalled this way in the The Blue Bear, Livingstone's yearbook:
"In 1892, several young men . . . decided to inaugurate football at Livingstone. To that end, an order was placed for one of the regulation footballs from Spalding's. . . each man chipping in and paying for it. Then the fellows began to work putting cleats on their everyday shoes until after practice, when they would be taken off. Old clothes were patched and padded up and these constituted the togs of the first Livingstone varsity football team."
Summary of the First Black College Football Game
Given their two-year practice advantage, the game was a stroke of sched­uling genius by the well-rehearsed Biddle men, who departed by train for Salisbury on the morning of the ball game, occupying half of one of the "colored" cars. Overnight, snow had begun to fall, and by game time the field was completely covered. Some accounts report a continuous snowfall throughout the game. It was perfect football weather for the few intrepid fans that flocked to the "open field" – a cow pasture, actually – by wagon, buggy, surrey, on mule and horseback. Some walked. The mood surrounding the game was light, and that may have in part led to the lax attitude in keeping records, not just for the first game, but perhaps for many years afterward at other schools, as well. There was more a feeling of playing just for the fun of it.
The Livingstone players wore their new uni­forms, made of ten-ounce ducking cloth, and sewn by the women of the Industrial Depart­ment. W J. Trent, halfback and team manager (coach) and, later, school president, proudly recounted years afterward that his uniform was best looking because he was courting the direc­tor of the Sewing Department!
The squads took the field to play two 45-minute halves, and by halftime Biddle held a 4-0 lead. (In 1883, points were introduced to football, and a touchdown counted as four points. A goal after a touchdown counted as two points.) Unfortunately, there is no record of who scored the first touchdown in black college football history. However, the first player involved in a controversy was Livingstone's Trent, who, in the second half, picked up a fumble and raced in for an apparent score. Trent's touchdown was disallowed, however, by the game's umpire – Murphy, a white law student from the University of North Carolina (and a Livingstone manager). The Biddle players protested Trent's apparent score because they said their runner had already stepped out of bounds when the fumble occurred. That was not easily discerned, however, because by that point in the game, the falling snow had obscured much of the field markings.
Biddle, thus, took a 4-0 win.
A confusing, controversial start, to be sure, but black college football was off and running with dynastic programs to build, legends to be made, and great fun to be had.
Read more in Michael Hurd's book, Black College Football, 1892 – 1992: One Hundred Years of History, Education, and Pride